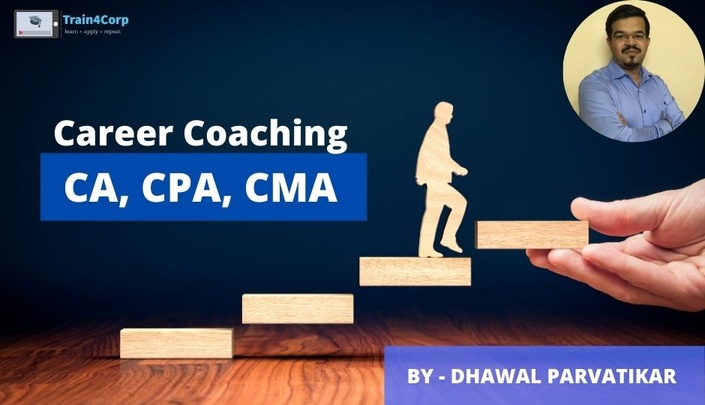 Career Coaching for Chartered Accountants
Helping CA, CMA, CPA discover their next level
Enroll in Course
Career Coaching for Chartered Accountants
Till we clear Chartered Accountancy, most of us have a clear goal. But the moment we take up a job, within a couple of years, we start to feel direction less. We are unable to decide our destination, unable to decide our next level.
Some common career challenges:
Profile shift from one to another
Dilemma about further studies after CA
Lack of career direction
Need help with spotting new opportunities
Need help with resume, profile building & interviews before shifting jobs
Unable to decide between practice or job
Lack of guidance on starting a business
Unable to move from individual to managerial roles
Moving from middle management to senior roles
Navigating difficult situations in office
Want to upskill, but no idea with what…
Feel like doing a little bit of everything…
And so many more challenges that a Chartered Accountant may face in their careers.
How can career coaching help?
Career coaching with somebody who has diverse experience can really help you achieve clarity. Coaching can help you create a focused plan and make you accountable to act on the steps as per the plan. Coaching can really help you prioritize your goals. Coaching can help you during transitional phases like,
Job change
Helping you aim for one level higher roles
Help you decide with right further qualification
Support you settle down after a job change
Help you to get a breakthrough business idea or a side hustle.
Discover your strengths and build on them
And much more...
Most have the ambition of becoming a CFO or CXO or own a business someday, but remember, that is step number 20. Most lack the focus and they keep thinking about step 20. While in reality, taking one step at a time and implementing an actionable plan is what will take you a step closer towards you goals and not just dreaming about step 20.
Career Coaching Methodology
Unlike other coaches who charge by the hour, time is of secondary importance in our method. What is most important is RESULT and getting the right action step towards it. The other important thing is that transformations & growth takes time. That is why we prefer a yearlong engagement instead of just 'X' hours or 'Y' number of calls.
Here are some coaching options, you may choose the one which fits best to you.
Ala carte session:
This is a 60 min focused 1-on-1 session with Dhawal. Usually this is enough to figure out some next steps related to career direction, further courses, discuss about a job offer that you are confused with, any career related dilemma or concerns that you may want to immediately address.
Package of 6x1 hour Coaching Calls:
If you prefer ongoing help to improve on a certain area or accomplish an objective over a few months, then this is the most ideal package for you. This will help you take specific action and work with me over a short period of 6 months to transform your career. Ideally, these will be one coaching call a month. However, we can agree on an interim call if need be depending on some action points that you may have to work on.
Laser Coaching (Unlimited 1-to-1 calls of 15 mins for 1 year):
This involves a yearlong engagement with unlimited 1-to-1 calls with Dhawal for a period of 1 year. This package is ideal for those looking for a short to medium-term transformation like job change, addressing a particular skill gap. This will also help you create a focused action plan about your career and narrow down on the exact steps that you need to take to put your career on a growth path.
Here is a typical example,
'Z' is looking to change his job, in this case, some of the steps in a 3–6-month window would look something like this:
Initial sessions will be directed to know where you stand and do a SWOT.
Resume, profile building, personal branding, refining & polishing job search.
Derive strategies to spot right opportunities.
JD evaluation and helping with mock interviews.
Support in the initial months to settle in the new job.
Another situation is where you sometimes feel stuck with your career growth. You might feel stuck in junior management & now want to break through to mid-senior levels. You might need help with starting a side hustle or a business or any such similar challenges etc. Taking your career to the next level will require focused efforts with a lot of accountability and consistency. If you are looking for transformation and are ready to put the required hard work, then I suggest you sign up for this.
Here is a typical example,
'X' had 8 years of experience and wanted to target mid-senior roles. Our steps in the yearlong package would look something like this:
Initial sessions will be directed to know where you stand and do a SWOT.
Do an assessment of your experience narrow down on roles to target.
Identify any qualification gaps and plan courses or certifications.
Identify skill gaps and plan for courses, coaching or certification.
Recommend books, courses, coaching, videos to prepare for the target roles.
Resume, profile building, personal branding, refining & polishing job search.
JD evaluation and helping with mock interviews.
Support in the initial months to settle in the new job.
Don't be alone in your career journey. Take a step towards your next level. Come, let's work together and accomplish some great things for you.
FYI, if you are looking for some job guarantee, then this is not for you. This is for those genuinely interested in career growth.
What will you get when you sign up for laser coaching?
Initial call of 45 mins to understand your situation a bit deeper & then create an action plan for you.
Unlimited 1-to-1 calls of 15 mins each for one full year
Access to VIP sessions on various topics that I will be conducting on career growth
WhatsApp / LinkedIn message support for smaller issues
Peer group access for networking & community growth
Ground rules for laser coaching:
Laser coaching is designed to make your life easier and not a weekly call commitment.
Every 15 min call may include an action step or some homework, which is critical to make the best use of it. If you don't do the homework, then you may not get the best results out it.
It is designed to help you with issues and not make you more dependent on the coach. So, make sure you use it judiciously for major points.
My personal recommendation:
If you are unsure about laser coaching, I suggest you book an ala carte call with me first. Together we can discuss and determine if there is an actual need for a continued support, then you may think of opting for laser coaching. The whole point of laser coaching is to eliminate the access barrier, that is, you should not think that you have to pay every time before speaking to me. Idea is to give you access to a senior pro with whom you can be completely open and share all your vulnerabilities, so that you can take action & grow together.
If you have any questions, get in touch with me on [email protected] or DM me on LinkedIn.
To conclude, I would like to state my favorite quote:
"Every next level of your life, will demand a different you"
Cheers!
Dhawal Parvatikar
Your Instructor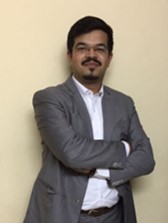 Dhawal is a qualified Chartered Accountant from Institute of Chartered Accountants of India and a certified general management professional from Indian Institute of Management - Ahmedabad with close to 10 years of experience in business finance roles with leading Indian and Multinational Corporations. Adept in understanding business needs with ability to liaise across various levels of management. He has diverse experience across sectors like Software, Oil & Gas, Outsourced Shared Services, Advertising and PR.
He is a passionate finance for non-finance trainer and a finance mentor. Dhawal has mentored dozens of young Chartered Accountants and Finance Professionals.
"My passion has always been to teach people like you everything I know about being successful at finance and be a successful finance professional" – Dhawal
Frequently Asked Questions
I am not sure if I need career coaching?
That is completely okay. That is why we always recommend you to get on to a strategy call with us to check if this is a good fit. We don't want to recommend this if it is not a good fit for you.
How is this coaching different from other career coaching?
A lot of career coaches out there just focus on resume and job search. Being a Chartered Accountant and having struggled to find direction in early days myself, this coaching offers you strategic career development related to your finance career. I believe that every individual's career is unique and there is no one formula. So, truly personalized coaching is the idea here, so that you can get maximum benefit out of it.
Do you provide a job guarantee?
Well, if you are looking for job guarantee, then this is not for you. I would also recommend that if somebody is offering you job guarantee or a guarantee that you will double your income in 90 days and similar shit, then don't sign up for that kind of coaching. This coaching program is here to help you navigate the challenges in your career and help you take you to the next level. You see, careers are much more than job search & earning money. So, if you truly believe in your own personal development, then this is for you.