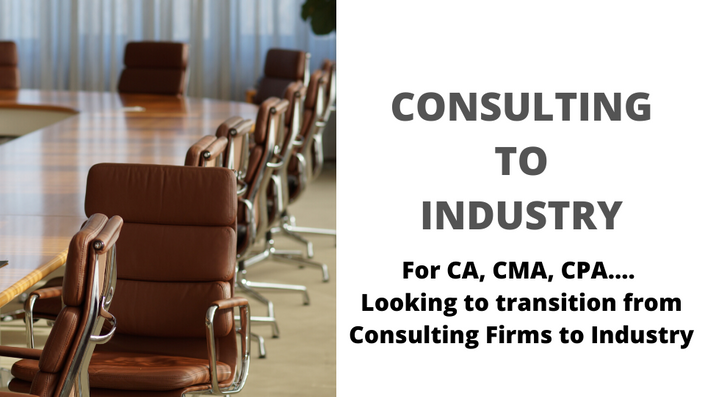 Consulting to Industry Course
Everything you need to know to transition from Big 4s or Large Consulting Firms to 'Industry' roles
Chartered Accountant working with Big 4 or Large Consulting Firms?

Planning to switch to 'Industry' soon or in near future?
Let me tell you working on the industry is side completely DIFFERENT from a CA firm. Many professionals who make this move to industry end up in the wrong profile or end up feeling frustrated because they do not understand the dynamics of industry roles. This mainly happens because one has very limited visibility about industry roles, while working in a CA Firm.
This unique training program is designed to help you understand industry roles better.
After this training, you will be able to:
Understand and appreciate industry roles better.
Decide which is the RIGHT role for you and target accordingly.
Understand the preparation required for industry roles
Learn tips to make a smooth transition into industry
Learn tips to leverage your experience the RIGHT way to target the RIGHT roles.
Trust me, this will give you the RIGHT direction and make your life easier once you make that move to industry.
So, what are you waiting for?
Register TODAY
See you inside the course
Cheers!
Your Instructor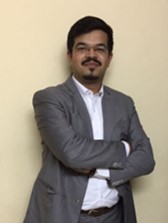 Dhawal is a qualified Chartered Accountant from Institute of Chartered Accountants of India and a certified general management professional from Indian Institute of Management - Ahmedabad with close to 10 years of experience in business finance roles with leading Indian and Multinational Corporations. Adept in understanding business needs with ability to liaise across various levels of management. He has diverse experience across sectors like Software, Oil & Gas, Outsourced Shared Services, Advertising and PR.
He is a passionate finance for non-finance trainer and a finance mentor. Dhawal has mentored dozens of young Chartered Accountants and Finance Professionals.
"My passion has always been to teach people like you everything I know about being successful at finance and be a successful finance professional" – Dhawal
Frequently Asked Questions
When does the course start and finish?
You can access the course at anytime. Course access will be available for 7 DAYS from the date of enrollment
How long do I have access to the course?
You can access the course at anytime. Course access will be available for 7 DAYS from the date of enrollment
I am not a Chartered Accountant, is this training for me?
This course is designed for experienced Chartered Accountants working in Big 4s or Large Consulting Firms. However, you are welcome to attend if you feel this could be of some help to you. This will give you a lot of insights about working on the industry side.
I am a CA article, will this course help me?
This course is designed for Chartered Accountants with 0-8 years of work ex to help them work on the industry side. If you are yet to qualify, you are still welcome to try this out if your ambition is to work on the industry side.