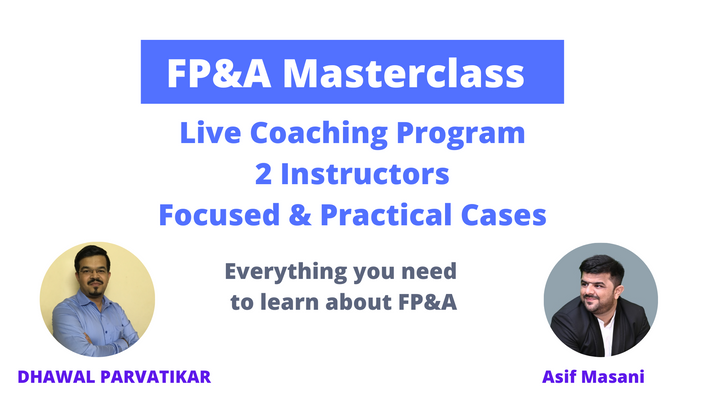 FP&A Masterclass - Batch 4
Learn Advanced Financial Planning and Analysis Step by Step. LIVE Session starts 29th Apr 2023
Do you want to be a successful FP&A professional?
Here is an interesting fact, FP&A is not about fancy dashboards, tools or excel modelling. Tools are only an aid and not a substitute for strong conceptual foundations. The main aim of FP&A function is to enable senior management to take right decisions by providing the right set of reports.
It is important to learn performance conversations like revenue, gross margins, product profitability, client profitability, recharges & allocations, management commentaries and so on…
Based on our experience of being a Finance Business Partner to CEOs and Business Heads, we bring to you FP&A Masterclass.
This will be a LIVE coaching program consisting of 8 sessions of 2 hours each, highly focused on all the practical aspects of FP&A. You will be exposed to real life case studies and discussions, which will help you progress in your career as a confident FP&A professional.
After this Masterclass, you will be able to,
Better understand FP&A & why it sits closer to the CFO as a function
Learn to independently build budgets & forecasts for your company
Confidently build & present management reports
Master essential storytelling & presentations that your audience loves
Be a true finance business partner by providing the right insights to the business
Why this course?
Historically, certifications like CA, CMA, CPA and others have always been compliance focused.
Other certifications out there are 'Ratios & Analyst' focused.
This course enables you to pick up practical concepts in least amount of time invested.
Content is sector agnostic.
So, what are you waiting for? Go ahead and take benefit of our experience, research & hard work.

ENROLL NOW!
See you inside the course, Cheers!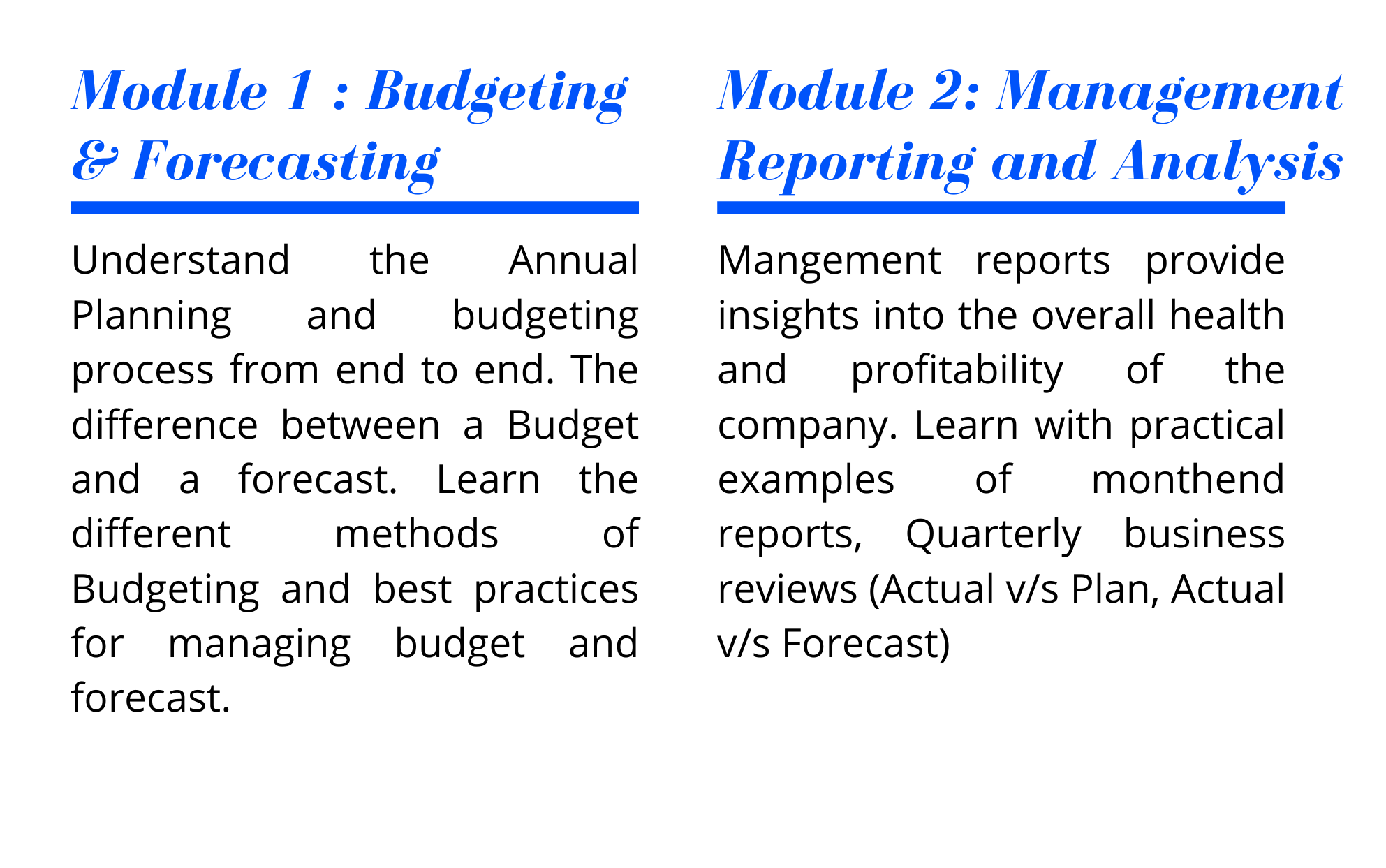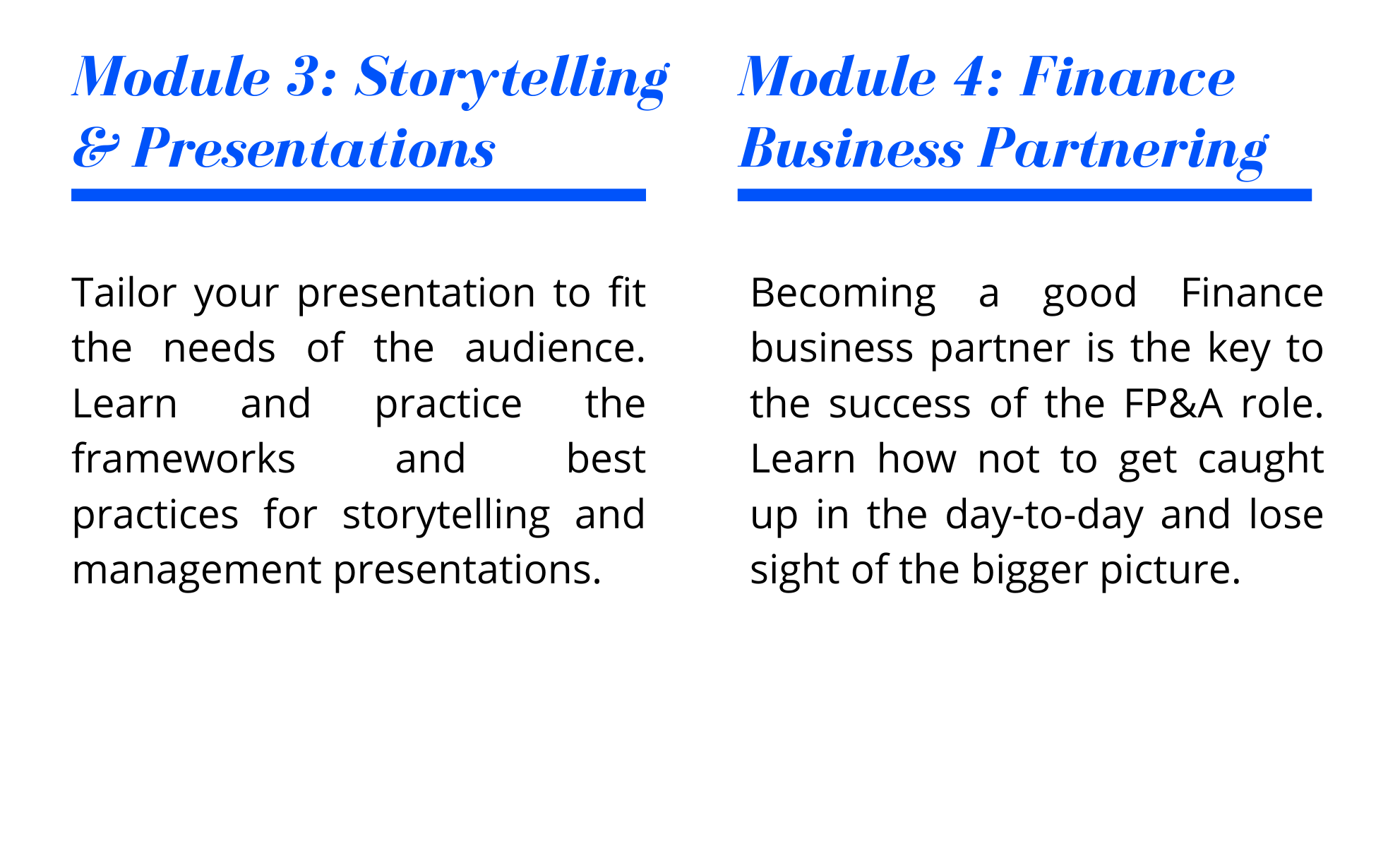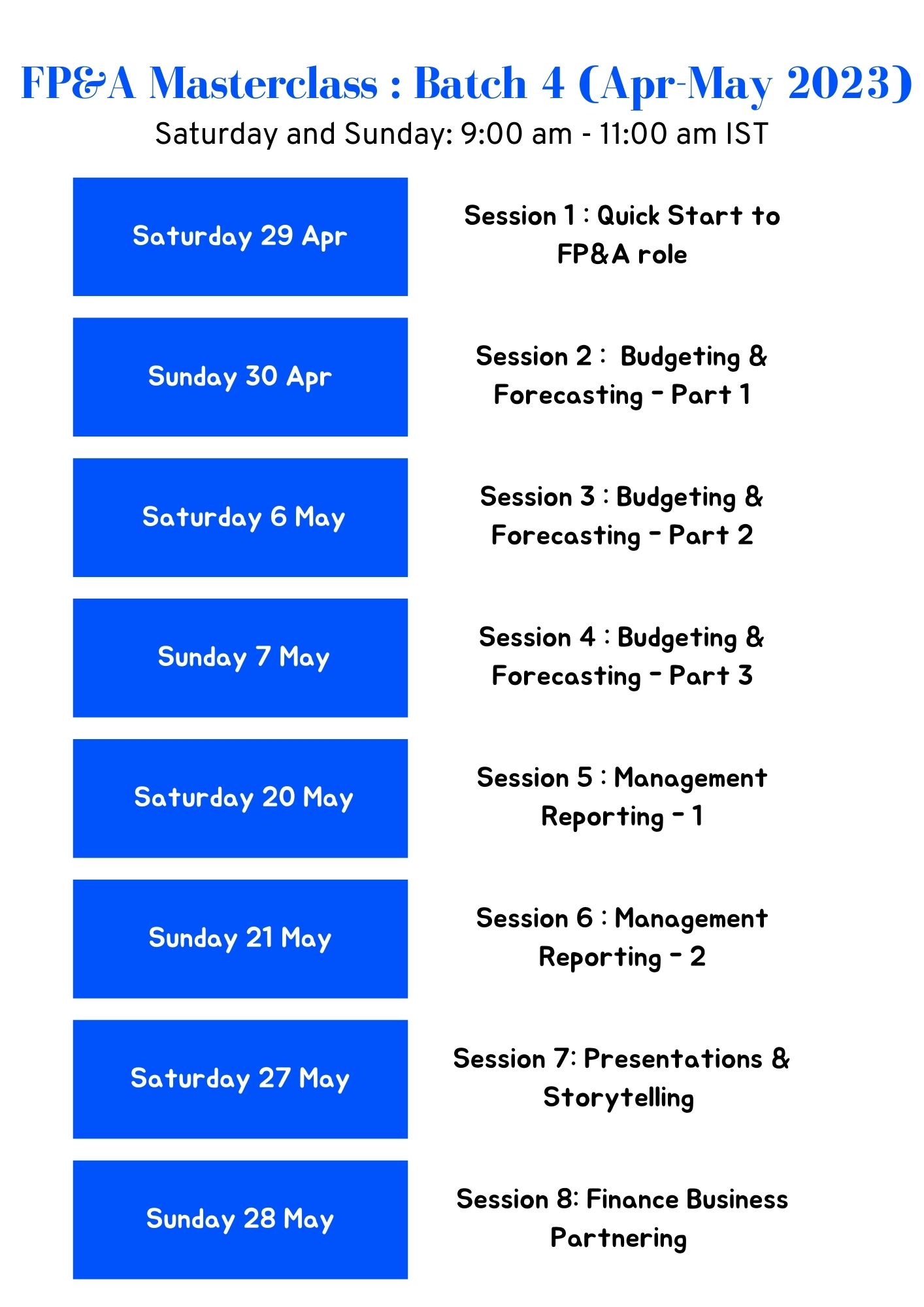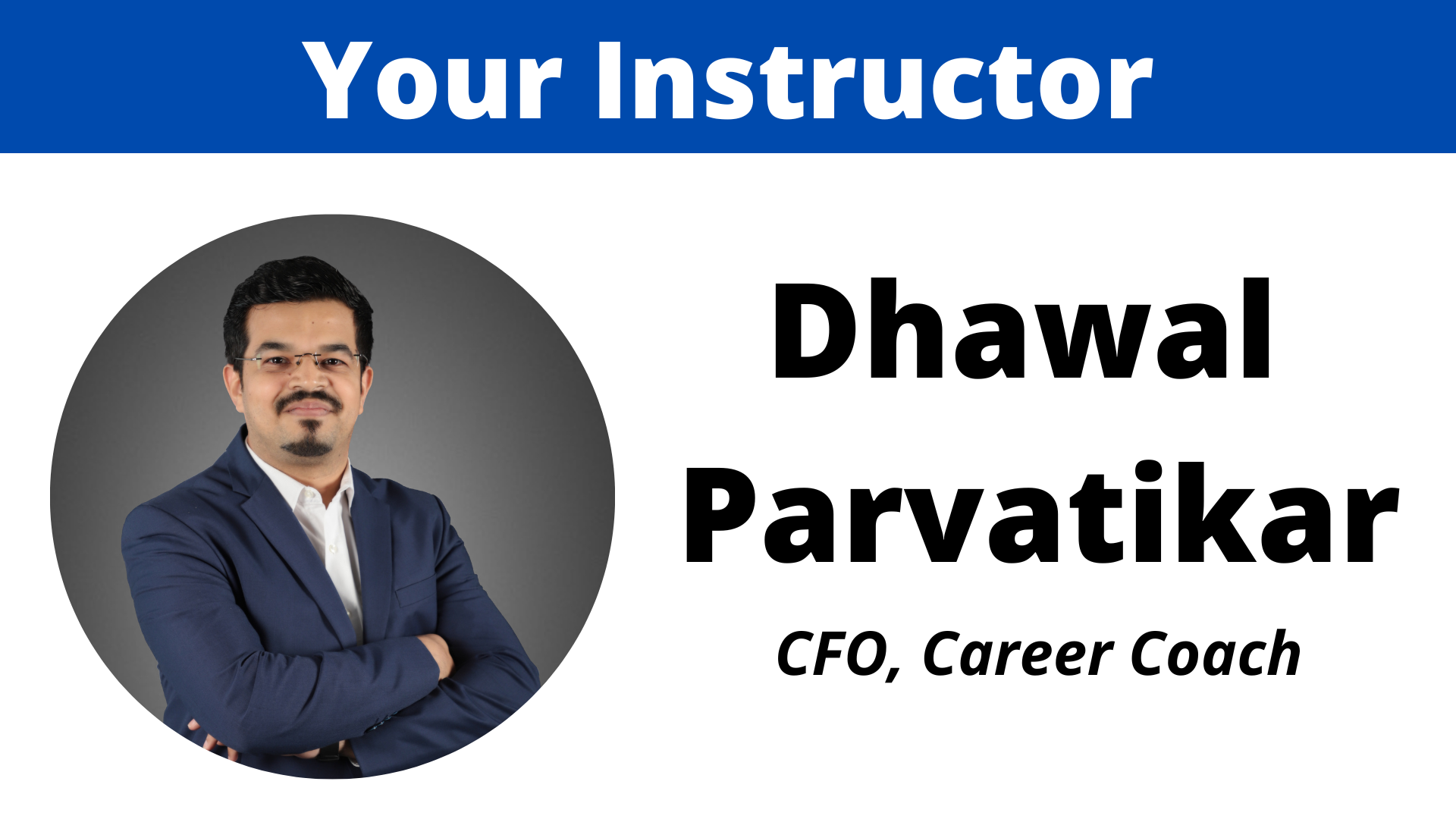 Dhawal is a qualified Chartered Accountant from Institute of Chartered Accountants of India and a certified general management professional from Indian Institute of Management - Ahmedabad with over 12 years of experience in business finance roles with leading Indian and Multinational Corporations.
Adept in understanding business needs with ability to liaise across various levels of management. He has diverse experience across sectors like Software, Oil & Gas, Outsourced Shared Services, Advertising and PR.
He is a passionate finance career coach and cares deeply about helping finance professionals get to the next level in their careers.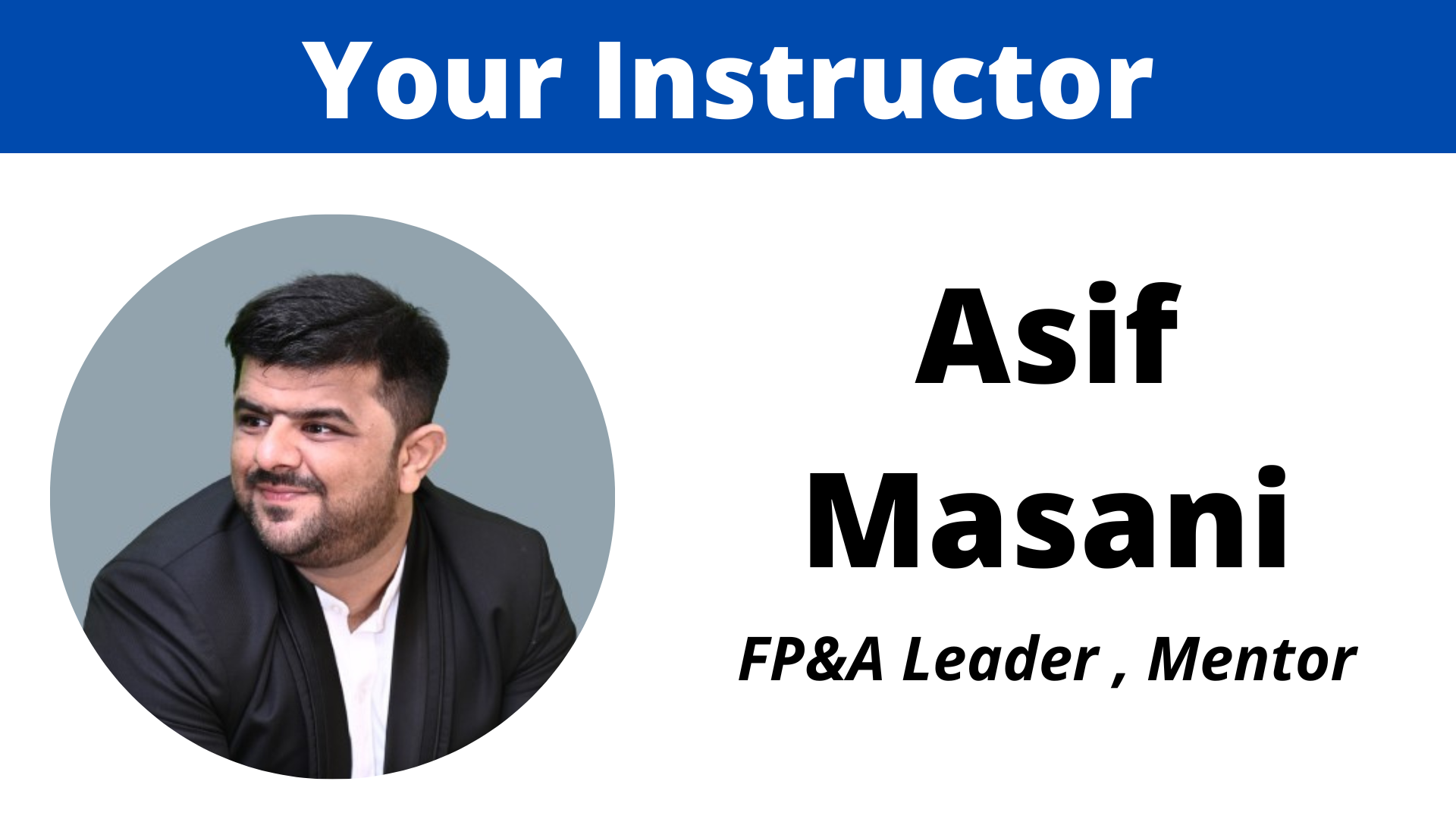 Asif Masani is an FP&A professional with 12+ years of Finance and FP&A experience. He has worked across various industries with organizations like EY, Citibank, Pfizer, Great Learning and Coursera. Presently, he leads the FP&A function for APAC and India at Coursera.
He is a Chartered Accountant by qualification with a flair for driving strategy, decision-making and value creation for organizations. He is perceived as one of the leading thought leaders in the field of Financial Planning and Analysis (FP&A). He is a regular contributor at fpa-trends.com and fpnaprofessionals.com
His goal is to help 1 million students, professionals and executives develop top notch FP&A skills.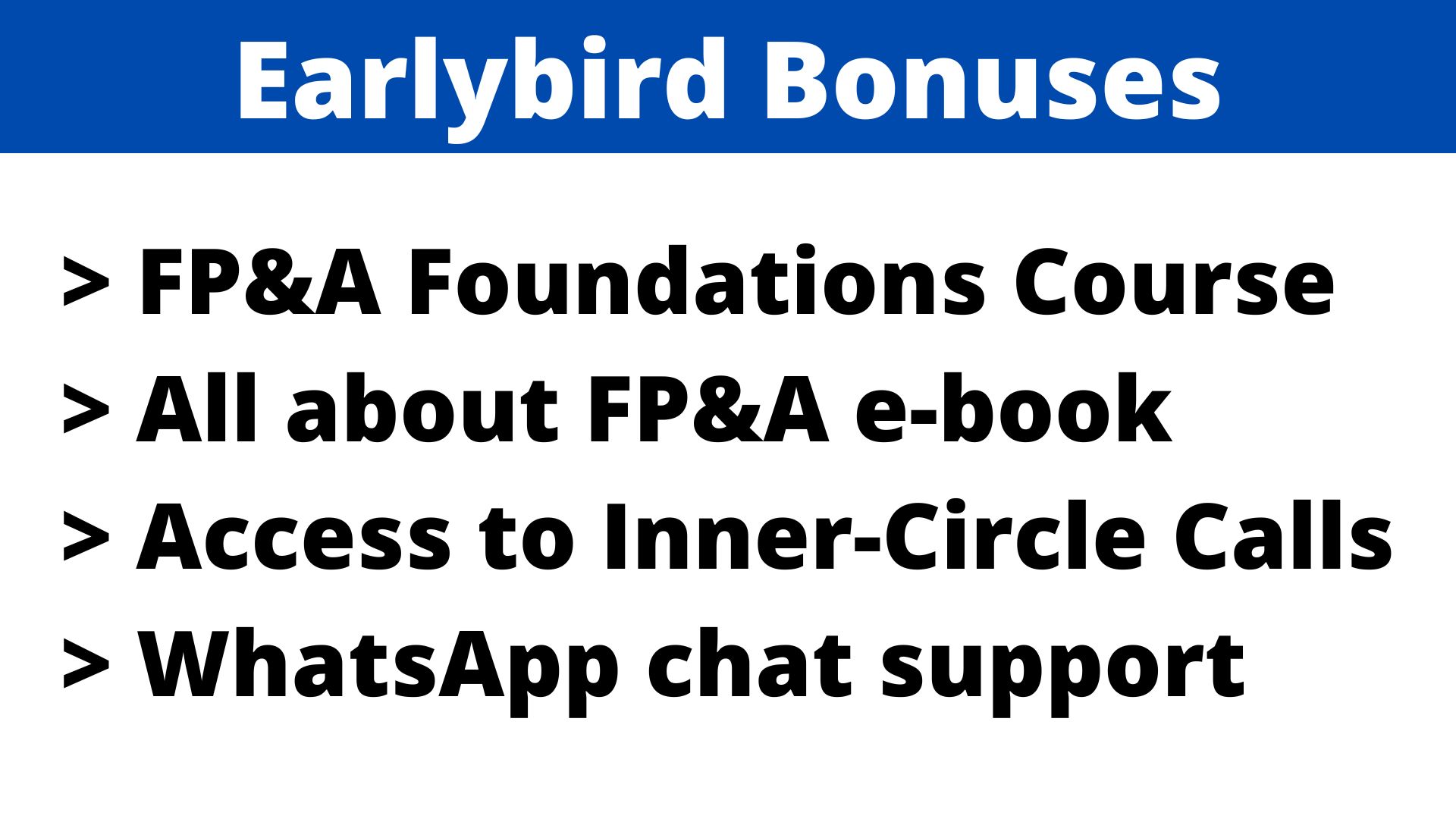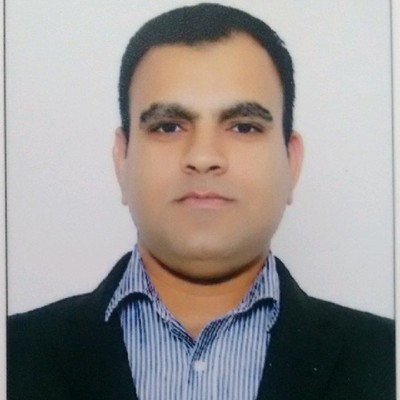 "One thing that I liked most about the FP&A Masterclass is the detailed review of FP&A activities using the monthly and weekly calendar. I have worked in FP&A for the last six years. But still I learned a lot of new concepts. I am now confident of building an FP&A team from scratch. I will definitely recommend this course to my colleagues in Accounting and Finance to break free from the stereotypical accounting mindset. This is one of the best FP&A live coaching programs available"
- Prateek Sharma, Finance Business Partner, LG Electronics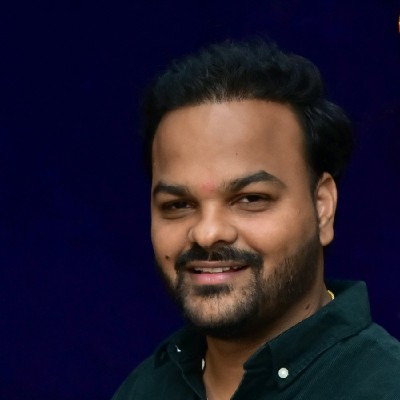 "I really liked the curriculum, which is in-depth and practical. We covered everything from budgeting to the variance analysis and from reporting to presentations. The explanations were very comprehensive and to the point. I will definitely recommend this masterclass to my colleagues, especially to the folks reporting to me."
- Rahul Chure, CFM Specialist, Accenture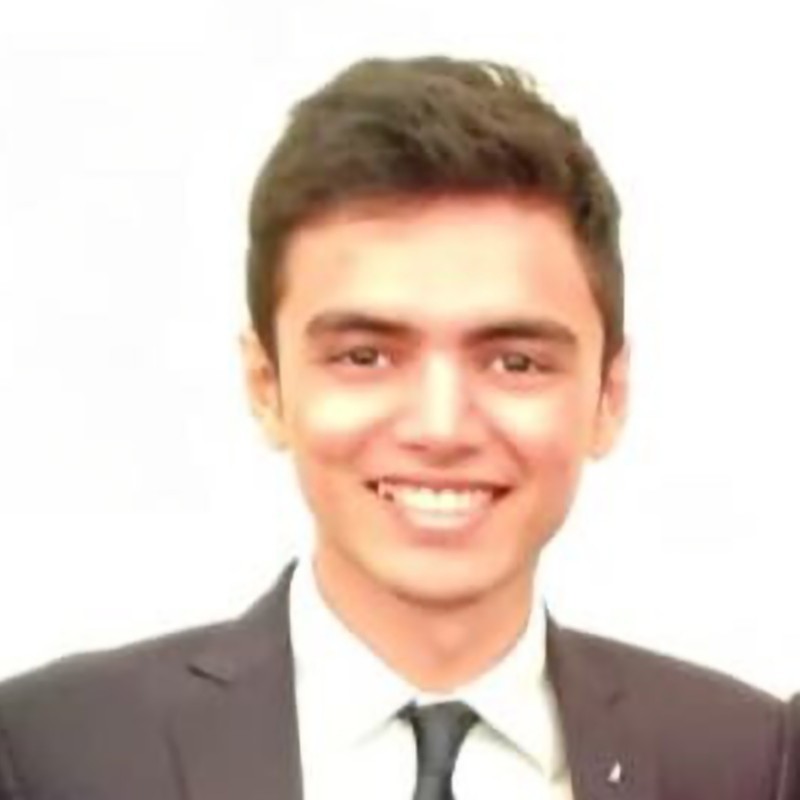 "I was a part of Batch 1 of the FP&A Masterclass. I would highly rate the masterclass cirriculum. I especially liked the conceptual clarity along with the one-to-one doubt-solving sessions."
- Rushabh Mamania, Deputy Manager, Shemaroo Entertainment Ltd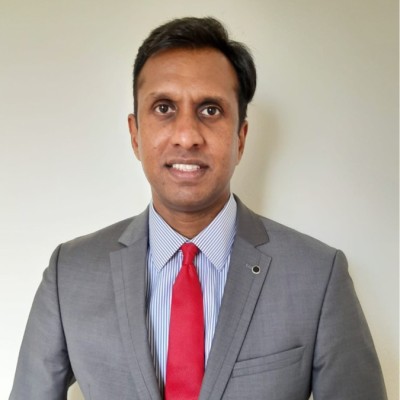 "I could not attend the masterclass live as I am based out of Australia (very different time zone). I ended up landing a job in a profile I wanted by watching the recordings of these sessions. It gave me a good picture of FP&A and was very productive.I was able to get a good foundation on story-telling, business partnering and strategy. I also liked the real life experiences that we discussed during workshop
- Kiran Rayala, Senior Finance Professional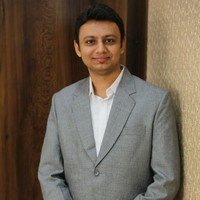 "I loved the experience at the FP&A Masterclass - Batch 1. Thank you, Asif and Dhawal for your knowledge sharing, time and consideration. I really appreciate your efforts and look forward to gain more such quality knowledge in the future!"
- Parth Shingala, Finance Manager, Brand Folio Plus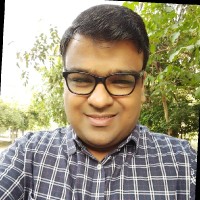 "I was a participant at the FP&A Masterclass - Batch 1. I would highly rate the learning experience I had at the FP&A Masterclass. Thankyou Dhawal and Asif for the deep insights, intense teaching and a superb workshop!"
- Aditya Ladia, Plant Finance Head, Lenskart.com

"The course provided a comprehensive learning experience through detailed discussion of case studies. Coupled with class breakout room activities and engaging group discussions, it added valuable insight to the material. If I had to choose one aspect that I can immediately apply to my role, it would be the presentations and data storytelling. "I highly recommend this course for anyone looking to enhance their FP&A skills."
- Mohd Sanaullah Sabri, Credit Manager, HDFC Bank, Lucknow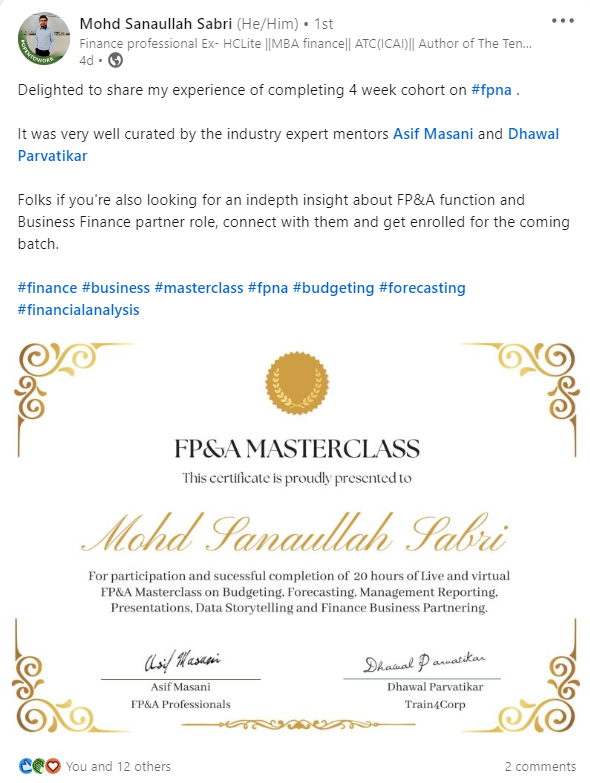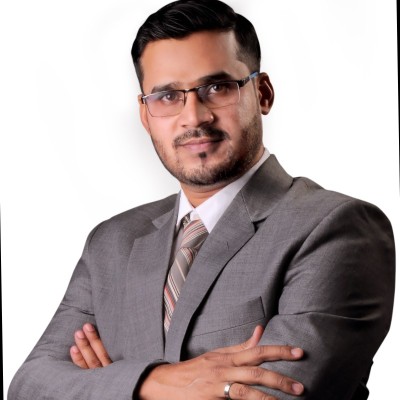 "I was thoroughly impressed with the level of detail and explanation provided on each topic, including real life examples. Asif and Dhwal were always available to answer any questions that arose. Out of all the things I learned, the forecasting methods and different approaches stand out as something I can immediately apply in my role. Overall, a fantastic learning experience."
- Muqthiyar Pasha, Accounts Receivable Manager, at Lenovo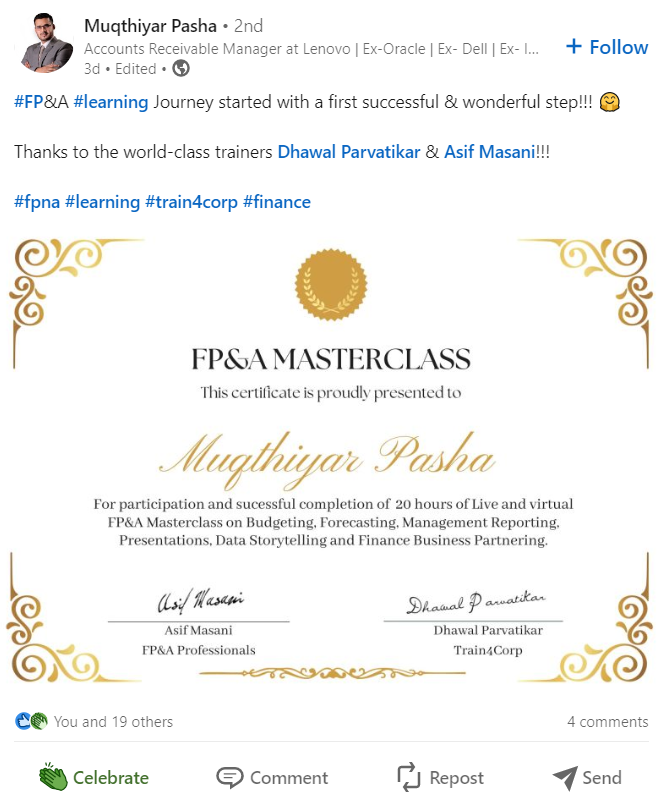 "I am incredibly grateful for the opportunity to participate in the FP&A Masterclass sessions. It provided a comprehensive and insightful learning experience.I feel much more equipped to succeed in my professional endeavors. Thank you for creating such a valuable program and giving me the opportunity to be a part of it."
- Subhrasandhya Mohapatra, Associate, Pricewaterhouse Coopers, Kolkata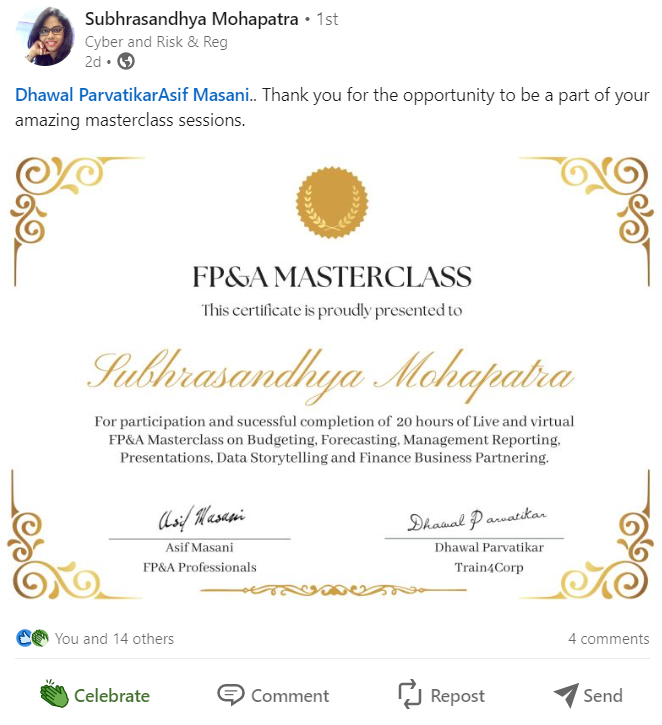 "The course content and the use of case studies were my favorite aspects of the program. I was particularly impressed with how I can apply the lessons on presentation and communication in my role. Overall, this was an incredibly valuable learning experience. I would highly recommend it to anyone looking to improve their FP&A Skills"
- Chandrakanth Ananthoju, Assistant Manager Global FP&A, Macromill Inc, Hyderabad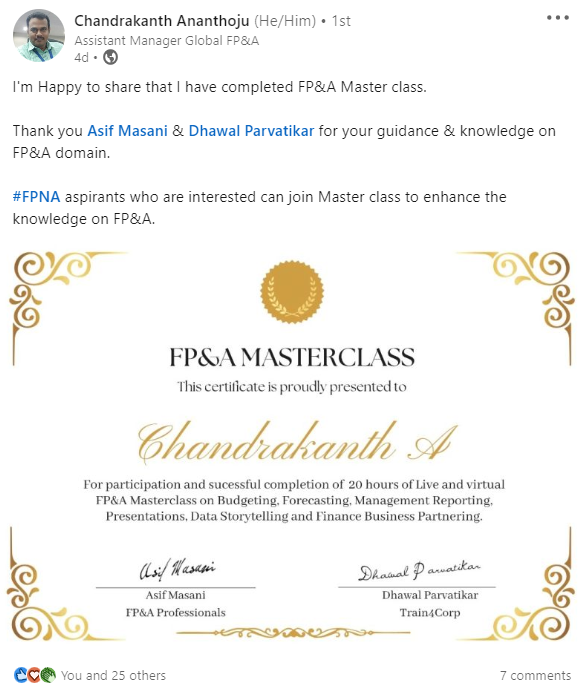 "The case studies were the highlight of the course for me. They provided a practical and real-world approach to the material, making it much easier to understand. There were many things I learned that I could apply to my role, including the reporting templates and budgeting techniques. Overall, I highly recommend this course for anyone looking to improve their FP&A skills and knowledge."
- Subhasis Mishra, Business Management Specialist, Juniper Networks, Bengaluru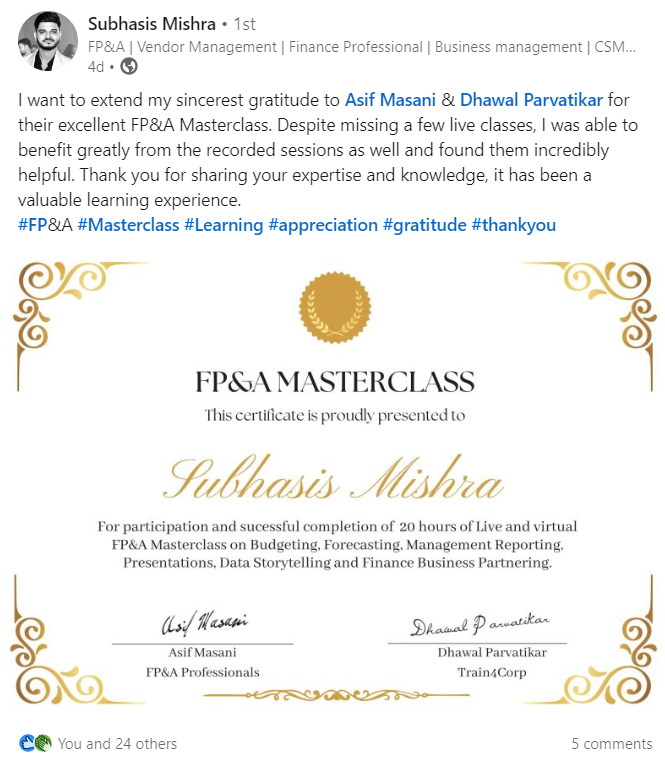 "I am thrilled to have had the opportunity to join the live online FP&A Masterclass with Dhawal Parvatikar and Asif Masani. They expertly guided us through the dynamic and evolving topics on FP&A. I highly recommend the FP&A Masterclass to FP&A aspirants, especially with Dhawal and Asif as your instructors."
- Bijay Saha, Finance Manager, RNZ International FZE , Dubai (UAE)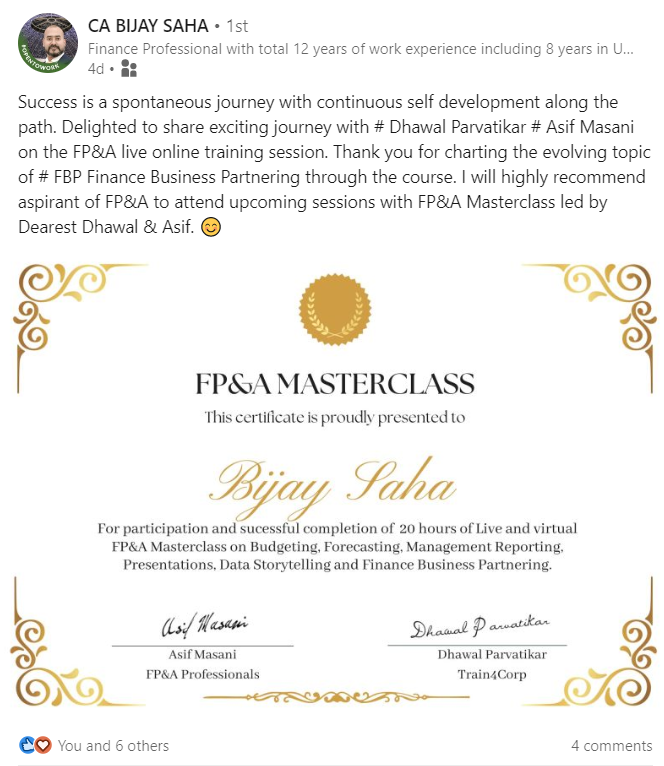 "I want to extend my gratitude to Asif and Dhawal for their hard work in compiling such a comprehensive curriculum and delivering it so effectively. Their use of practical examples really helped me gain clarity on the material. Out of all the things I learned. The presentation techniques and interactive charting methods are some aspects I can immediately apply in my role. I highly recommend this course to anyone looking to improve their FP&A skills and advance their career."
- Sachin Pai, Project Financial Controller, Larsen & Toubro Infotech, Mumbai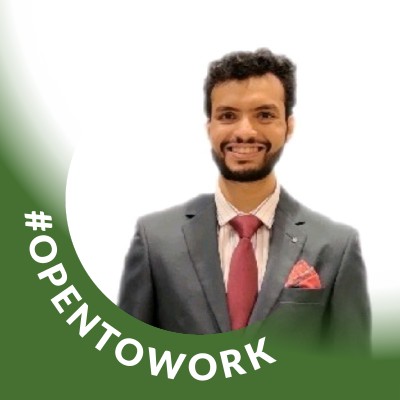 "I highly recommend the FP&A Masterclass and its practical knowledge components. One standout aspect for me was the emphasis on understanding the business reasons behind variances. This is a crucial aspect of financial analysis, and the insights I gained from this masterclass that I can apply in my role. I highly recommend the FP&A Masterclass to those who wish to learn about FP&A"
- Shreepad Deshmukh, Assistant Manager, EY, Bengaluru
---
Frequently Asked Questions
When does the FP&A masterclass start and finish?
The FP&A masterclass will commence on 29th Apr 2023 and will continue for 8 sessions on Saturdays and Sundays
How long do I have access to the course?
You will access to the recordings of the training for ONE YEAR from the date of enrollment.
Who is this course for?
This course is for you if you are new to FP&A, or have less than 5 years of experience in the field. You will learn right from basics to advanced FP&A. By the end of this course, you will be able to confidently apply these skills in your job.
Will this be a LIVE coaching program?
Yes, FP&A masterclass is a 100% LIVE training program.
What if I am not able to attend a session?
We would encourage you to attend the sessions LIVE. However, due any emergency you are unable to do so, you will have access to the session recordings.
I don't have any prior experience in FP&A, is this masterclass for me?
Don't worry, we will be covering everything including the foundational knowledge that is required for this masterclass.
I am a non finance guy, is this course for me?
No, this masterclass requires you to have a basic finance & accounting qualification.
Will this masterclass cover preparing dashboards & financial modelling?
The focus of this masterclass is conceptual FP&A and to give you an idea of what happens in the FP&A function. This masterclass will not be covering preparation part of dashboards & financial modelling. Instead, our focus here is to learn what happens after the dashboard or model is ready.